Frequently Asked Questions
Who is Garrdal Corporation and what is Garrdal?
Garrdal Corporation is a privately owned, American company located in Toledo, Ohio that manufactures a retrofit 2-part pipe flashing .
Is Garrdal more expensive than other pipe boots?
No. Garrdal costs roughly the same amount as other retrofit pipe-flashing accessories.
Where can I find Garrdal?
For contractors: Please check the "For Roofers" page on this website for a directory of roofing suppliers who stock Garrdal.
For Supplier: Give us a call today and we'll get an order shipped to you within 3 business days.
As a dealer, what are my ordering options?
Garrdal can be ordered in quantities of 24, 48 and 72 units. Since each Garrdal pipe flashing consists of 2 parts, an order of 24 units will come with 48 parts, 24 tops and 24 bottoms. Please check the "For Dealers" page for more information.
How does Garrdal Ship?
Garrdal ships with UPS from the 43615 area code. Each unit weighs about 1 lb, an order of 24 units will weigh 24 lbs. Please view the"For Dealers" page to see pictures of the shipping boxes.
What is Garrdal made of?
Garrdal is made from ultra durable, UV resistant co-polymer and UV resistant TPE. Please check the Material data sheet PDFs provided below.
Does Garrdal need to be trimmed?
Yes. Please check the installation materials posted below for complete installation instructions.
Where can I find more information about Garrdal?
Please look through all of the FAQs, check our guides below and make sure to check our Facebook and YouTube channel for the most up to date information. If you have any other questions we did not properly answer through our channels please give us a call, send a message through this website or Facebook, or send us an e-mail. Your questions are important to us.
Installs in 8 Easy Steps
Tear Away ribs on lower are now shaped like trim guide pictured below.
The grooves are slightly offset to the inside of the ribs. Grooves are on the underside, carefully nick groove and gently tear around groove leaving the rib.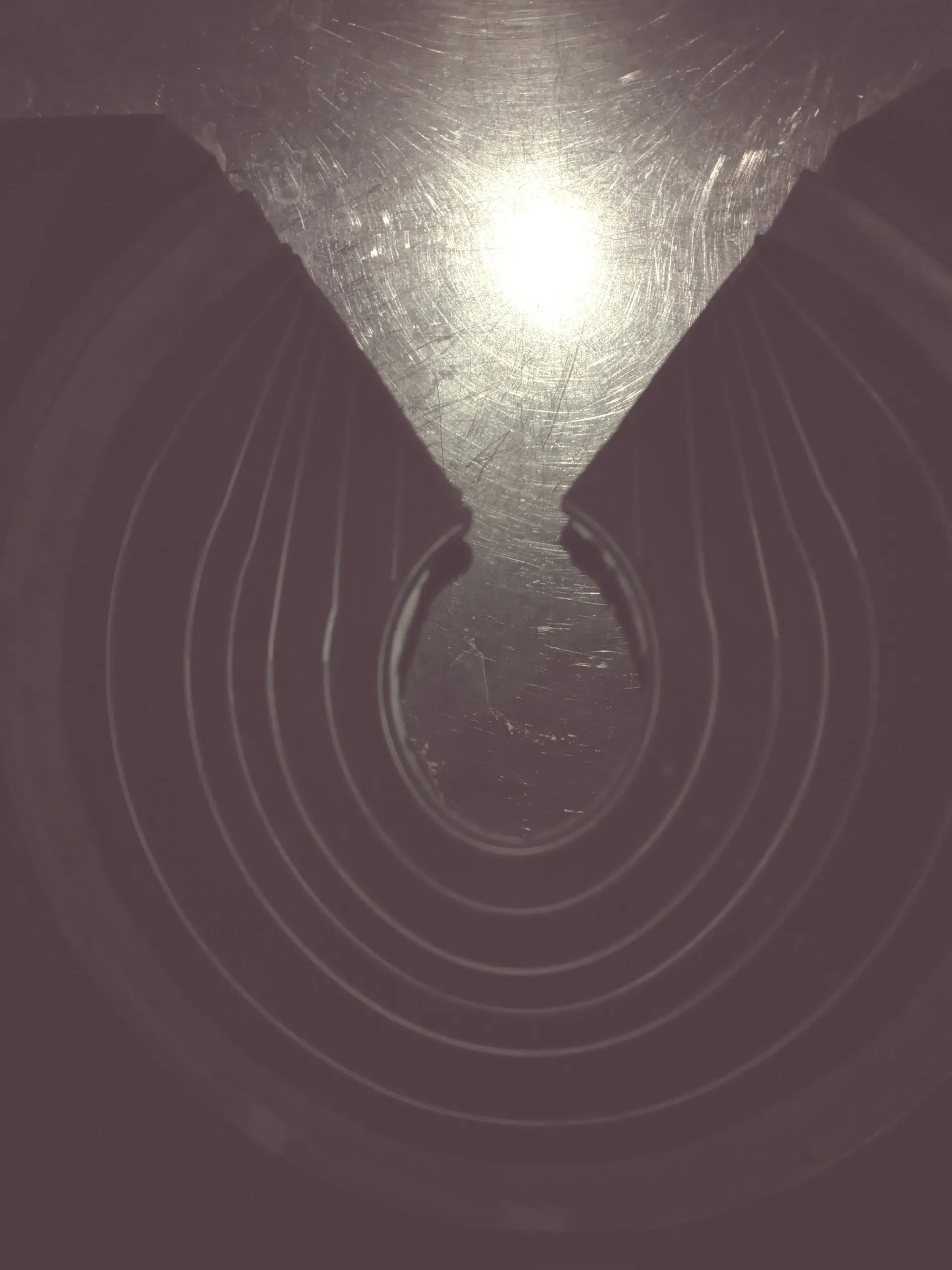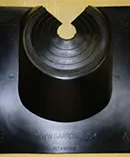 Start with the lower part of the Garrdal 2-part retrofitting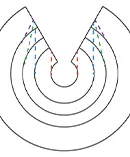 Choose a a ribbing smaller than the desired pipe size.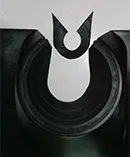 Carefully trim inside of rib, refer to image below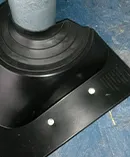 Lubricate pipe, apply pressure to snug, fasten the lower part.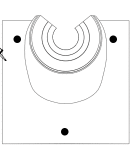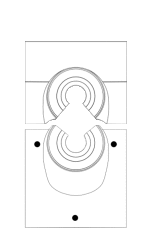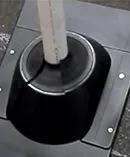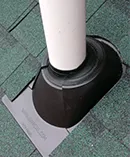 Garrdal Installation Demonstration
How To Install Garrdal
You may download the Installation PDF below or watch the videos provided. We recommend you do both, as it will increase the likelihood of correct installation the first time.
Garrdal 2 part retrofit pipe flashing specifications and data
Material data sheets can be found at Garrdal.com
Carbon black is added to both parts as a UV stabilizer and colorant.
For use on shingle roofs 3/12 pitch and steeper.
Designed to seal around round pipes from 1 inch diameter to 5 inches diameter.
Roof deck is to be prepped with ice and water shield, 6 inches or more beyond the footprint of the flashing if decking allows (as other flashings or per local code).
Fastener locations are marked on the product or positioned per local code.
The lower piece (with the patent number) is to be installed first after shingles are installed to the penetration the flashing is being installed around.
The upper part of the flashing is installed second, this allows positive water flow.
Installed footprint 16 ¼ inches high by 12 inches wide.
Shingles installed on the flashing are to be seal assisted as shown on product or per local code.
Shingles are to be trimmed in a fashion to allow water to flow on the flashing, do not butt the shingle against the conical riser.
Underlying shingles that meet the water channel should be nicked (just like a valley) to prevent water from catching the edge and running horizontally. See shingle manufacturer valley instructions.
Sealants used on the flashing are to be compatible with a vulcanized thermoplastic elastomer (collar/gasket) and a thermoplastic co-polymer (rigid base). A list of approved sealants for use with the flashing are on the FAQ page at www.Garrdal.com www.Garrdal.com/faq.
If a manufacturing defect is found on a Garrdal 2 part retrofit pipe flashing, return it to place of purchase for replacement.
Additional answers can be found on the FAQ page on Garrdal website or by calling Garrdal Corporation 419-279-8182
Sealing Garrdal
Attention! There are many different types of caulks and sealants and they may have different characteristics from one another. Some are meant for an outside bead to air cure and others don't need air exposure to cure and seal. This list gets updated periodically, contact us through the chat if you have a question about a sealant not listed here.
Recommended sealants based on adhesion, flexibility and compatibility with Garrdal materials:
Lasalle Bristol XTRM Universal Sealant
Geocel 4600 Hybrid Structural Adhesive Sealant
Freedom Flash by Kool Seal (Sherwin Williams)
MS Hybrid Roofing Sealant by Uniflex (Sherwin Williams)
NPC Solar Seal
Quad OSI Clear (testing color options)
Ultima Rubberized Sealant (Sherman Williams)
Bostik Pro-MS 50
Geocel 4500 (with primer)
3M weatherstrip adhesive.
Lucas 6600
Karna flex WB
Karna Flex, Rubberized Elastomeric Sealant.
Boss 125 multi-seal
Gardner Neoprene flashing cement
Alpha Sealants 1010 or 1021
Dicor 501 or 551
Henry 900
M1 by Chemlink
Henry 212
Supra by Mulca
Kop-r-lastic by Henry